HANCOM's ParkingFriends™ platform uses Acconeer's A111 radar sensor for smart parking services
With the ParkingFriends™ shared parking service app, parking space users get access to easy and fast parking search, real-time parking reservation and a convenient payment method. At the core of the system is an IoT Parking Sensor, where Acconeer's A111 radar sensor is used to detect whether a parking space is occupied or not.
HANCOM Group is a Korean company which has led the era of the 4th industrial revolution in areas such as Smart City, Blockchain, Forensic, Robotics and Artificial Intelligence. In particular, HANCOM Mobility is a parking-related business founded in 2013 and currently expanding the IoT shared parking business through agreements with local governments to solve parking problems in urban areas.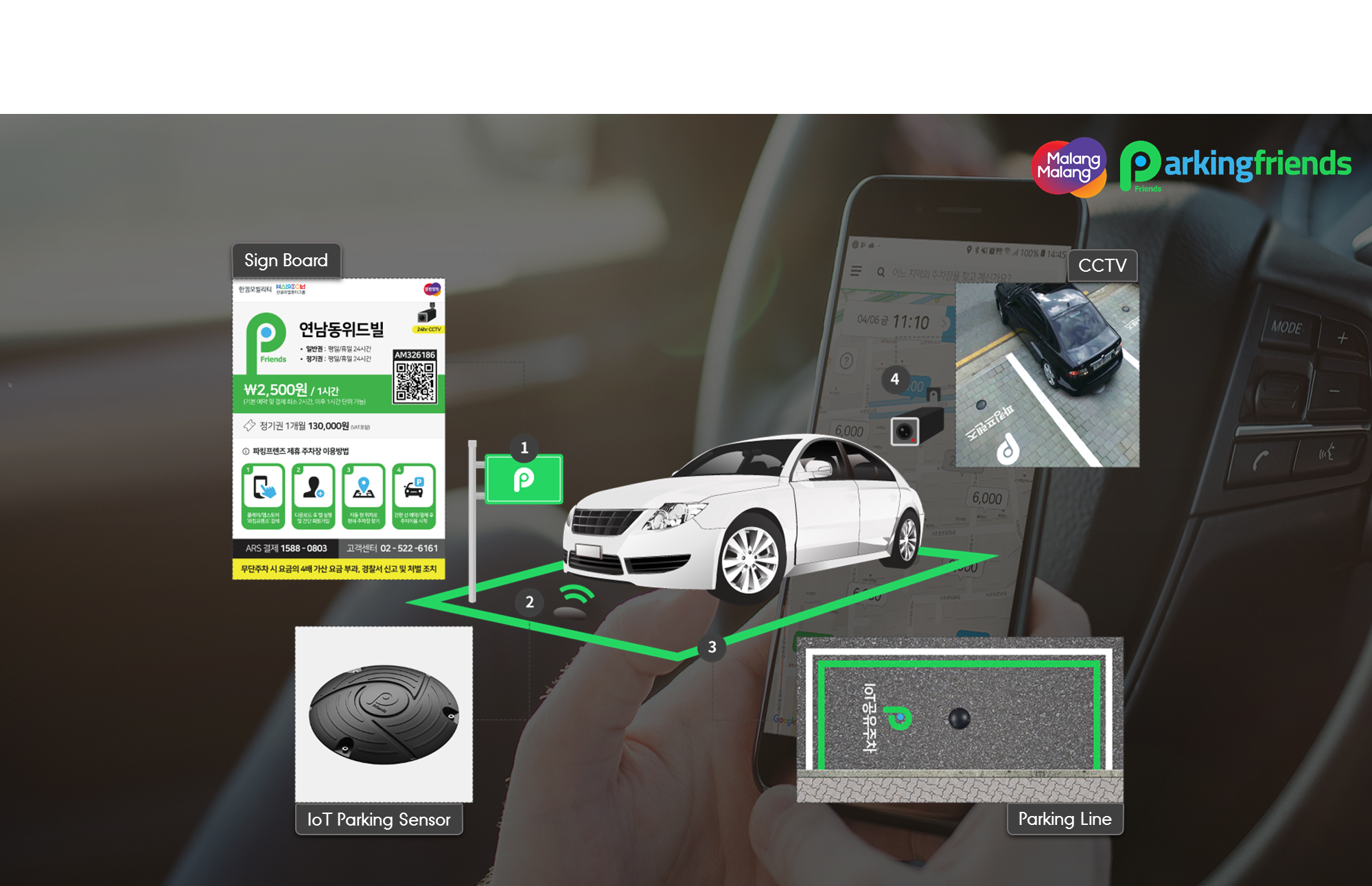 IoT Shared Parking Platform
HANCOM Mobility's IoT shared parking is a platform that connects parking space providers with users. The connected parking space providers are equipped with IoT parking sensors, line painting, and information boards to enable shared parking services on the ParkingFriends™ platform. This enables the users to search, reserve and pay their desired parking lot in the ParkingFriends™ app, so that they can reduce the time they spend looking for a parking space, therefore saving time and gas. As a result, HANCOM has a business model for realizing the sharing economy by allocating the generated parking revenue with the providers who shared the parking space and HANCOM Mobility.
The parking space providers can use a partner mobile app to do parking time management, revenue analysis and illegal parking monitoring through CCTV. As various mobility needs and modern transportation modes are now appearing, people want to use integrated services. Therefore, HANCOM Mobility aims to provide better services for these diverse mobilities as a unified platform. In addition, it will be evolved into a Mobility as a Service (MaaS) platform that can utilize a variety of mobility solutions to provide a shared mobility service.
IoT Parking Sensor built with Acconeer's A111 Radar Sensor
To provide users with reliable information about parking space availability, a sensor is installed on the parking surface to check the entry-and-exit information of the vehicle in real time. Using IoT network technologies, it can be operated for 3 years with battery thanks to the low power consumption of the pulsed coherent radar from Acconeer. The A111 radar sensor has been applied to IoT parking sensors to get real-time vehicle information. The IoT parking sensor is currently in service in conjunction with the ParkingFriends™ platform. This way, HANCOM can offer an effective service in real time that allows parking reservations.
When choosing between available technologies, a radar sensor was adopted in order to provide customers with an optimal parking service quality.
"In practice, I have experienced that the vehicle detection of the A111 radar sensor is very accurate. And another reason for choosing the A111 was Acconeer's fast technical support", says Seokil Park, General Manager, SS Development Team, IoT R&D Center, Hancom MDS Inc.
Easy integration thanks to tools and support
With the help of Acconeer's tools and technical support, the integration and product design was easier than first expected.
"To be honest, there was a preconception that it would be difficult to apply Acconeer's radar sensor into a new IoT parking sensor. But thanks to the tools and software provided by Acconeer, along with support from Acconeer's engineers to solve problems quickly, that was never a concern. In the process of designing a new parking sensor, we were once again impressed by Acconeer's incredible technical expertise in responding proactively to various hardware and software requests.
No word of lie, I saw Acconeer is the best partner," says Seokil Park.
Acconeer's radar technology is the core technology of HANCOM's IoT parking sensor, where it provides the best available sensing technology to manage parking lots in real time. Along with various IoT communication technologies, it can be applied not only to vehicles but also to security and safety equipment such as obstacle detection and motion detection. And that can be applied to healthcare industries by using amazing technologies such as non-invasive heart rate measurement. HANCOM expects to be able to grow together with Acconeer in connection with the business of various companies of HANCOM Group.

About
HANCOM Group is an IT service group with the best technology and competitiveness in the areas of software, hardware and finance. Comprised of 13 companies including 4 stock-listed companies, having 9 overseas subsidiaries. With the IoT shared parking platform, HANCOM Mobility was also ranked as a shared company of Seoul city in Korea building a shared parking ecosystem together with Seoul city.